Getting a chance to officiate a wedding is definitely something to get excited about! Being a person who's going to make two beautiful people begin another journey is not only a pleasure but a responsibility that needs to be fulfilled appropriately. So, to attend a wedding as an officiant, there are numerous things you would need to take care of including the wedding officiant clothing.
You must be wearing proper attire that goes with the couple's vibe and does not make you look awkward either. Now, here are a few suggestions that you can take into account while deciding what to wear when you're officiating a wedding.
Get Suggestions from the Couple
At the end of the day, it's the couple who matters and not anyone else. So, you should be asking for their opinion. Maybe they have something in mind which they want you to wear but are not saying so that you may not feel forced. Therefore, just go ahead, ask them, and get whatever they would prefer! At the end of the day, a couple can never be wrong at anything at their wedding, right?
Attire Should Go with the Décor
We wouldn't recommend wearing something flashy or not aligned with the formality code. Furthermore, consider the color palette and how to be in line with the tones of the décor. Basically, you must not only consider the formality and significance of a wedding officiant, you must also choose something that looks good with the décor, flowers, and everything else around.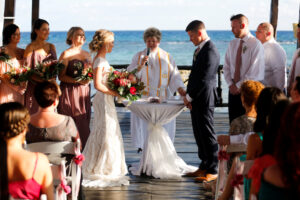 Don't Outcast the Couple
The bride & groom are supposed to be the center of their wedding. If you decide to wear something captivating, flashy, or bold, you might end up drawing too much attention. Believe us, you wouldn't want to go there! A wedding officiant clothing is more about being modest and simple so that you don't end up outcasting the couple.
Black Never Goes Out of Fashion!
If you can't decide what to wear, the easiest option that works every time is to choose black! Black not only looks elegant and awesome, but it also makes you enhance the beauty of the entire ceremony. No matter the weather, the décor, the venue – a good black attire goes absolutely with everything!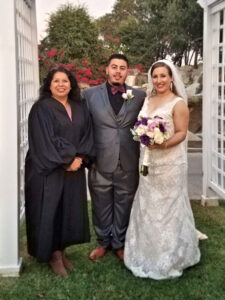 Ever Thought About Wearing a Robe?
Wearing a robe just at the time of the ceremony can make you able to dress for the wedding just as you like. While wearing your favorite attire, you can just put on a robe and solemnize the wedding for your bestie standing beside you! There can be no better option for wedding officiant clothing than wearing a robe and your personal favorite attire at the same time. It will be more symbolic and meaningful but we would recommend just going with the vibe and letting yourself enjoy the wedding to the fullest too!
The Bottom Line
Choosing wedding officiant clothing is actually quite easy, isn't it? So, dress at your best and make this special day more meaningful for your friends! To get ordained easily, simply go to theamm.org.