Backyard weddings are as intimate and elite as all other weddings. So, if you are thinking of conducting a soothing wedding with your close friends and family in your backyard, you're going to need proper wedding ceremony planning! Now, planning such a wedding is definitely a pressure-releasing affair because you won't have to worry about getting out of your budget. Plus, you can also have some quality time with your close ones indulging in wedding ideas.
However, there are some things you might need to take care of while organizing a soothing backyard wedding ceremony. But, don't worry for a second, this article's definitely going to help you with that!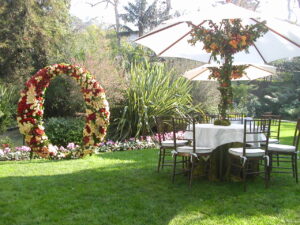 ·
Décor is the Foremost Significant Matter
At a backyard wedding, you need to make sure the wedding décor goes with the vibe as it is supposed to be more of a personal and special event. Getting out of the budget won't be an issue as you can simply use real plants and flowers for the surroundings and some elegant colors to add fascination to the whole thing!
You can get yourself a wedding planner for making things easier in this regard. However, if you're really into organizing a simple wedding with elegant décor, all you have to do is a little online research or get help from friends. All in all, remember to set everything right including the vow-taking area, the cake cutting place, the dance floor, etc.
·
Legalities Going to Kick in!
Arranging a wedding at home is not all about fun, games, and music. You need to take care of certain legalities too. Other than officiating a wedding, you'll also need to ensure permission about playing music (while taking care of neighbors), parking cars on the streets (it's just not allowed in some places), and also check on the insurance stuff (be ready for everything!)
·
Having a Tent Might be a Good Idea
The tents usually tend to mess and compress things a bit, but at a backyard wedding ceremony, they can be a blessing! Tents won't only help you keep your entire ceremony limited to a place but can save you from unseen mishaps.
At-home weddings, the guests might just roam around in your house which can be quite uncomfortable sometimes. With tents, you can avoid such situations by keeping them all in one place. Moreover, it can also save you from rain or extreme heat (in case it's summer).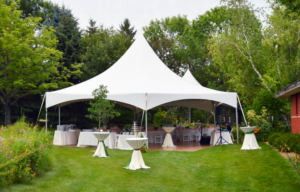 ·
A Bar is a Must!
People do serve drinks at home weddings but they often forget to arrange a proper bar while doing the wedding ceremony planning. No, it's not something to feel bad about, but arranging a dashing bar can definitely be a treat to all your guests and YOU!
Having served drinks table to table is not always as exciting as getting them by yourself from the bar, and wedding bars are a tradition coming from so long. It would be a great addition if you just add it up to the checklist of your backyard wedding ceremony!
·
Forgetting About the DJ?
Having a wedding DJ can double up the wedding fun every time. No matter where the wedding is taking place, good music with a good operator is always something that lifts up everyone's mood! We would like to add that officiating a wedding is always more fun with a DJ spreading loveable vibes all around!
Once you're done with planning, don't give second thoughts to your idea of having a backyard wedding ceremony only because of considering what people might think. Your wedding's not going to happen again so make sure to make it perfect. Furthermore, check out this link theamm.org to make a friend or family member ordained!