The beauty of having your own chosen minister officiate your wedding is that you have the freedom to customize the proceedings as much as you like – especially when it comes to having a non-religious wedding.
The script sets out the running order and 'stage directions' for the entire ceremony – and with it, your ordained minister can guide the ceremony from start to finish, and ensure that you all know what to expect and what will be included on the day.
Here's how to write the perfect non-religious secular wedding ceremony script…
Use a template
Writing your own wedding script is exciting because of the freedom it gives you for the ceremony – but audiences respond to a structure they can recognize, so using a template, which includes typical wedding elements such as the procession and exchanging of vows is the perfect structure on which to write your own more personalized script.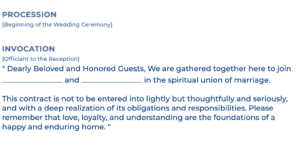 Make it personal
It's the most special part of officiating a wedding and writing your own script: personalizing it to the couple. Think about the couple, their relationship story, as well as their personalities, shared interests and which of these fundamental beliefs their marriage will be built on in the years to come, as well as any themes for the wedding. Speak to the couple and their family and friends about memorable anecdotes and how they would like to tell the relationship story through the ceremony, and include these incredibly personal elements into the script to make it extra memorable.
Be creative
A non-religious script gives you the chance to get creative with what you include in the ceremony, as you aren't tied to the traditions a religious ceremony is. Instead, you can include elements related to the couple's hobbies and interests, and create new, memorable, fun and informal ideas into the ceremony.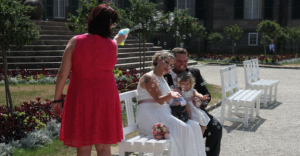 Pay attention to how the couple speaks
The couple's voices are the most important thing to keep in mind when writing the wedding script – especially with a non-religious wedding, where you have the freedom to not be tied to as many religious traditions and instead include elements reflective of them. Use words which they would say – shorter, more natural speech rather than long, convoluted sentences – as well as slang and their own mannerisms. Keeping a tone, personality and voice which is recognizably them will make the ceremony feel authentic and personal.
Find more information on everything you need to know when it comes to officiating a wedding ceremony at The AMM, now.