Music is a gift, and it's an essential part of a wedding. It releases feel-good hormones in the brain, which makes people happy. It has a lasting effect that is perhaps the element that guests will remember the most. But not every kind of musical style or song fits this type of occasion. That's why you should be careful in choosing the wedding music for your big day!
The Fundamentals
If you're thinking about how many or what specific songs you need for your wedding ceremony, there are five significant moments you need to designate songs for. First, the pre-ceremony, where you need to start with pre-ceremony music. This song plays right from the start of the day while people are coming in and taking their seats. Some classical music or light piano tracks best fit this part — just be sure to avoid anything too interrupting.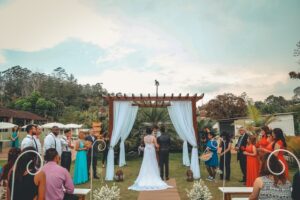 Second, the pre-processional, which is a more solemn moment that signals the start of the ceremonial act. This stage requires wedding music that flows nicely into your processional.
Third, the procession, also known as the big entrance. This is a big moment that demands focus. It is the part when the bridesmaids, flower girls, the bride, and her father walk down the aisle. Depending on your theme and the venue, you can choose anything from traditional, cheerful, or even something upbeat to highlight the entrance.
Fourth, the signing of the register. This part can be as short as five minutes and as long as ten. You'd want to pick wedding music that does not catch too much attention. Sometimes, especially at a traditional church wedding, the couple can have a soloist sing at the stage during this moment.
Fifth, the recessional, which tells everyone the wedding ceremony is officially finished. Therefore, this moment requires something joyful, upbeat, and optimistic. You'd want to see everyone happy and leaving the venue delighted and beaming with joy. With that in mind, avoid anything slow, romantic, and intimate — save those songs for later!
Additional Tips
Establishing an inviting atmosphere during your big day is more than just picking the appropriate wedding music. You also need to work with the ceremony venue and determine their rules and regulations. There might be some music that the venue will not allow during your ceremony, so it's best to be aware of these things in advance to avoid any hassle.
Moreover, we recommend you do your homework and look for musical artists who will keep your guests engaged. Ask for referrals from family and friends. Request musicians for a demo — this will give you an idea of their musical style and persona fit your needs. If you can, try to attend an event where they will be playing so you can experience how they perform live.
These tips should help you pick your wedding music properly and leave your guests with smiles on their faces and having a last song syndrome. For more information about weddings, especially ceremony scriptwriting, read more at https://theamm.org/officiant-training.