A variety of questions and confusions awaits whenever the wedding ceremony script writing is ahead. It doesn't matter how many ceremonies you've hosted before or how many captivating scripts you've already written; there's a series of steps that you need to keep in mind every time.
Among them, the most important one is to ask the lovely couple a series of questions to understand their story better. Building a bond and understanding the couple is the only way you can write a one-of-a-kind amazing script for the wedding!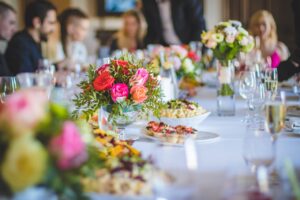 Questions to Ask:
   

What is Your Story?
Now, this includes asking the couple about the place they met, how they met, and what's their story, etc. This will help you write a wedding ceremony script that is more relatable and close to the couple's hearts.
   

How did You decide to Get Married?
Getting married is a big and valuable decision in anyone's life. Everyone decides to step into this new chapter with a person whom they think is perfect for them. Thus, it's significant to know why and how your gorgeous couple decided to marry, or what's the story behind their proposal?
   

How Will Your Wedding Style Be?
Another question of utmost significance! You must know that every couple has different plans and expectations from their nuptials. You'll come across some who want their wedding ceremony to be super classy with lots of guests, while others prefer a small intimate ceremony with just a few close people around. Now, there's no one right or wrong. However, it's essential to know what your couple prefers so that you can write the script accordingly.
   

What Type of Wedding Ceremony Will You Have?
There are different types of wedding ceremonies couples can opt for. Whether your couple decides to have a religious, non-traditional, or spiritual one, you must know this essential info before writing a script for their special day. Only then you can create one that is aligned with their personalities and wedding theme.
   

How Much Are You Close to Your Families?
Not everyone shares a similar bond with their family members. If your couple does, you can dedicate specific parts and lines for them in your script. However, if the couple doesn't want that, there's no problem keeping their wedding ceremony script straight and simple.
   

What Did You Like in the Wedding Ceremonies You Attended Before?
Having an idea about the couples' preferences and their views about matrimonial ceremonies can be beneficial. Maybe there are things that you would like to have in a wedding ceremony script, but your couple does not. Thus, you must be sure of their likes and dislikes beforehand.
   

Any Suggestions You'd like to Make for the Script?
Some couples might have a few things chalked out in mind but are not too comfortable to open up about them. Thus, as a scriptwriter, you must ask them if they'd like for you to add or subtract something specific from their script.
Visit the AMM's wedding officiant training pages to learn all about how to write a personalized and uniquely tailored wedding ceremony script.