As decades pass we are seeing weddings being more inclusive of both partner's wishes. Some trends are emerging, others are fastly fading, yet what is more surprising is that some strong traditions are being changed, especially in 2021. Such is the tradition of walking down the aisle – but this time, brides are doing it alone instead of being escorted! Why is that? Let's take a look at some of the powerful mindsets that are bringing a new wave of change when it comes to ceremony planning!
Can brides actually walk down the aisle alone?
Absolutely! It is actually an old tradition that the father is passing his daughter to her husband to take care of and cherish. Yet as brides or women, in general, are becoming more independent, they feel that this is an archaic tradition that simply isn't aligned with their personality anymore. Instead, they choose to walk either alone or with their partner and show equality. We are seeing even pets who escort their lovely owners and witnessing their iconic "I do's" – and we are loving it!
Sometimes the choice to go solo is because of other reasons too. That may include not having a parent or having two dads like a biological and foster one. Maybe the bride was both raised by a biological dad and stepdad – which also makes the situation complicated. Either way, if the bride goes solo, avoids offending any of them. It is an honorable way to solve any family situation. Furthermore, she might not be in a close relationship with her father so might prefer to do the walk alone! Whatever is the reason, we are loving these bold brides who simply do things their own way when ceremony planning.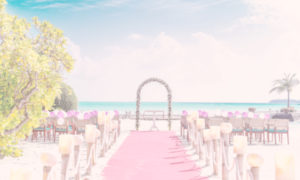 Walking down the aisle alone might also offend some family members but as we always say – it is your wedding day. When you explain what is your reason behind it, they will be more supportive and understanding. We have seen many brides go solo yet their fathers were beaming for the entire time of the ceremony! 
One of the frightening factors when walking down the aisle alone is that if you get nervous, there won't be anyone to lean on. Fortunately that can be solved by having your precious pet with you or do the walk as equals – approaching the altar hand in hand with your husband-to-be! 
In essence, many contemporary brides find the notion of being given from one man to another a bit outdated and out of the question. Shifting the limits of what used to be normal, they redefine their own ceremony rules, tailoring their special day to meet the needs of both partners. Not only this sets the tone of their own wedding but also shows a bigger picture – a bride that is independent and enters the marriage as an equal.
No matter whether you choose the traditional or prefer walking down the aisle alone, trust us, either way – it will be a special moment. If you need more inspiration & ideas about your ceremony planning, visit theamm.org!